Blush linen curtains are a stylish and elegant addition to any room in the house here in Dubai. They offer a sophisticated look that can add a touch of warmth and luxury to any interior design scheme. In this blog, we will explore the many benefits of blush linen curtains and provide tips on how to incorporate them into your home.
Why only the Blush Linen curtain? – Luxurious choice for your curtain 
Linen Curtains are known as the most precious material of all time. This is only due to the benefits that it contains either durability or breathability. It can be utilized year after year and it has timeless usability. This material suits everyone's needs as it has many types and is due to its versatility. Blush Linen is considered one of the best materials, this reputation increases its popularity and everyone desires to have a blush linen curtain.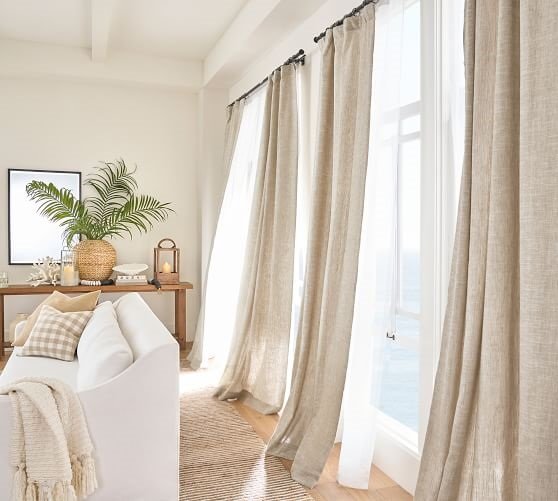 The Benefits of Blush Linen Curtains
Blush linen curtains can provide several benefits for your home decor, including:
Softening the Room:

The blush color of linen curtains creates a soft and gentle atmosphere in the room. The color is calming and adds warmth to the decor, making the room more inviting.

Adding Texture:

The linen material provides a natural texture that can add depth to the room's decor. It adds interest to plain walls and complements other textures in the room, such as wood or metal.

Enhancing Natural Light: Linen curtains are semi-transparent, allowing natural light to enter the room while providing some privacy. This creates a bright and cheerful atmosphere and can also help reduce energy bills by minimizing the need for artificial lighting.
Improving Air Flow: Linen curtains are breathable and allow air to circulate, making them ideal for use during warmer months. This can help to keep the room cool and comfortable.
Easy Maintenance:

Linen is a durable material that can withstand regular use and is easy to maintain. Blush linen curtains can be machine-washed, ironed, and dry-cleaned, making them a practical choice for busy households.
Overall, blush linen curtains can be a versatile addition to any room. They add a touch of elegance to the decor, while also providing practical benefits such as light control and airflow. 
Tips for Incorporating Blush Linen Curtains into Your Home
There are many ways to incorporate blush linen curtains into your home decor. 
Blush linen curtains come in a variety of styles, including grommet, tab top, and rod pocket. Consider the style of your room and choose a style that complements it.
Use them as a statement piece:

 
Blush linen curtains can be used as a statement piece in a room. Choose a bold print or pattern, or opt for a textured fabric to add interest and depth to the room.
Blush linen curtains can be paired with other fabrics, such as cotton or silk, to create a layered and textured look. Mix and match colors and textures to create a unique and personalized look.
Coordinate with other decor elements:

 
Coordinate your blush linen curtains with other decor elements in the room, such as throw pillows or area rugs. This will create a cohesive look and make the room feel complete.
To get the most out of your blush linen curtains, be sure to hang them correctly. Use a curtain rod that is the right size and height for your window, and consider using tiebacks or holdbacks to keep the curtains open and allow more light into the room.
Types of Blush Linen Curtains – Depending on their designs and textures! 
Many types of blush linen curtains mainly depend on the texture of the fabric and the designs or colors of the curtains. This includes: 
These are lightweight curtains with a subtle sheen that allow a gentle flow of light into the room. These are covered over the windows to allow soft light to pass through them and enlighten your home. Adding an infusion style to your room is also helpful with these types of curtains. They are very light in weight. 
Semi-Sheer Linen curtain: 
These curtains provide a bit more coverage than sheer linen curtains, but still, allow some light to come through. This allows very littlesee-throughh and does not maintain much privacy. 
Room-Darkening Linen Curtains:
These curtains are heavier weight and provide more privacy and darker rooms. They give out some black Linen Curtains effect even if the curtain is in a lighter color. It blocks almost 99% of the light when hanging over a window.
These curtains feature a unique texture that adds a modern touch to the room. These allow only minimal and filtered natural light to pass through them. 
Embellished Linen Curtains: 
These Linen curtains feature various designs and embellishments, such as embroidery, beading, and trim, that give them a unique look. These are also durable fabrics and are wrinkle-resistant. These types of fabrics don't show wrinkles.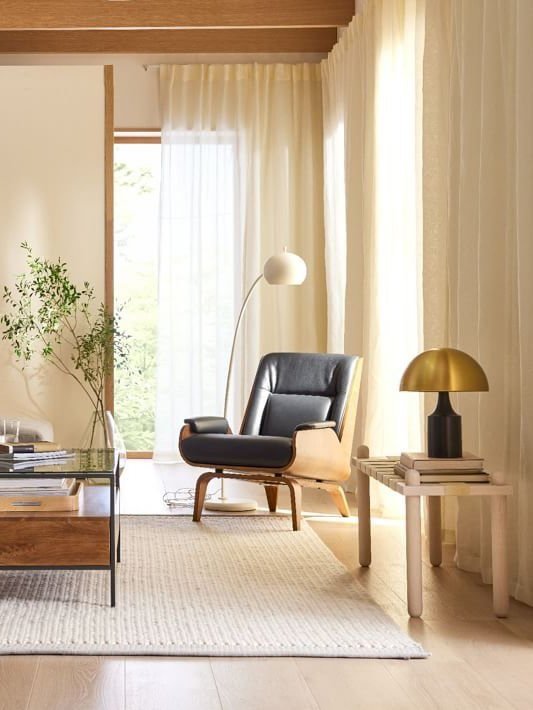 Conclusion: 
In conclusion, Blush linen curtains are a beautiful and versatile addition to any home decor. They offer a range of benefits, including natural light filtering, privacy, and a sophisticated look. By following these tips, you can incorporate blush linen curtains into your home decor and create a warm and inviting atmosphere that you will love. Our blush linen curtains add beauty to homes and offices. These contain styles as well as the addition of cultures.