Buy Best White Blackout Curtains Dubai An Ultimate Solution For a Cool & Calm Atmosphere
White Blackout Curtains Dubai is the window coverings of complete light-blocking ability. They are denser and have a thicker fabric than Ordinary curtains. Blackout curtains are available in different colors, shapes, and sizes, but the most common ones are black and gray curtains. Blackout Curtains Dubai is mainly used in bedrooms and home theaters. But they can also be used in offices and other commercial establishments.
There are many benefits of blackout blinds & curtains. Room Darkening curtains can block out the sunlight and prevent the room from getting too hot. They can also block out the noise from outside and provide a calm and serene atmosphere. Blackout draperies are also great for energy efficiency as they can help keep the room cooler in the summer and warmer in the winter.
If you're looking for an ultimate solution for creating a cool and calm atmosphere in your home or office, then Bedroom Blackout Curtains are the way to go.
Explore The Versatile Range Of White Cotton Blackout Curtains Dubai!
Whether you are looking for a temporary solution for a light-sensitive bedroom or want to make a more permanent change in your home, our blackout curtains ideas are a perfect choice! 
Blackout Curtains in Abu Dhabi are made of high-quality materials and are designed to block out all light, making them ideal for bedrooms, nurseries, and home theaters. We offer a wide range of smart blackout curtains in different styles and sizes to suit any home. Browse our selection and find the perfect curtains for your needs!
Room darkening draperies are a great way to keep light out and create a dark, peaceful environment. They're also perfect for blocking out unwanted noise and creating a more private space. Whether you're looking to improve your sleep and concentration or just create a more relaxing space, our Blackout Curtains Dubai is the perfect solution.
Wide Collection Of
Blackout Curtains Dubai
Best Quality Blackout Curtains UAE, Abu Dhabi
One of the most popular choices of curtains that are woven from tightly fabricated materials is Blackout Curtains Dubai. They are also referred to as blackout drapes. You can find the best solution for window coverings from WindowCurtainShop.ae in a variety of ranges. Blackout Curtains Dubai is mostly used to block natural light completely.
Blackout Curtains UAE is designed in such a way that users can easily adjust and filter light and noise. They are mostly used to provide privacy in any room, especially in the living rooms or bedrooms. They are also energy efficient and help to insulate any room.
We deliver blackout curtains in a variety of colors, patterns, and designs. You can also order blackout curtains from WindowCurtainShop.ae. The glare on the computer screens or the television screens can also be reduced by using blackout curtains. They are also useful to block all the harmful rays coming from the sun and adjust the inner temperature of the rooms in which they are installed. 
Benefits of Using Blackout Curtains Dubai
A form of window treatment called Blackout Curtains is used to keep sunlight and other outside light sources from entering a space. They are constructed from fabrics that are dense or opaque and that block the passage of light, such as polyester, cotton, or a mix of the two. Blackout curtains are frequently used in bedrooms or media rooms to provide a quiet, dark setting that encourages sound sleep or ideal movie-watching circumstances.
They are also common in places with distracting lighting, like those close to busy roadways or with outdoor lights. We deliver the best quality blackout curtains in Dubai and across the UAE. In addition to their light-blocking properties, Blackout Curtains Dubai can also serve to insulate a space by trapping heat in the winter and blocking out undesirable heat in the summer. They are available in a wide range of hues, designs, and sizes, so it's simple to select a design that matches your environment.
Blackout Curtains that completely cover your windows and are the right size for them when buying. It's possible that some blackout curtains can be machine washed, which can make them simpler to keep clean and maintained.
Blackout Draperies In Dubai: 2023 Trendiest Options We Have
As residents of Dubai, we are all too familiar with the harsh desert sun. The intense heat and bright light can make it difficult to enjoy our outdoor spaces and can even lead to health problems like heat stroke. Blackout draperies are the perfect solution to this problem.
Peach Blackout Curtains Dubai is heavy, opaque curtains that Block out all light, ensuring that your home is cool and comfortable even on the hottest days. They are also great for preventing light from entering your home at night, which can be a godsend if you work night shifts or have young children who need to sleep during the day.
From simple and elegant designs to bold and colorful patterns, we have something for everyone. We've rounded up some of the Best Printed Blackout Curtains that are sure to make your home look Beautiful. From classic blackouts to modern prints, there's something for everyone. So take a look and find the perfect blackout draperies for your home.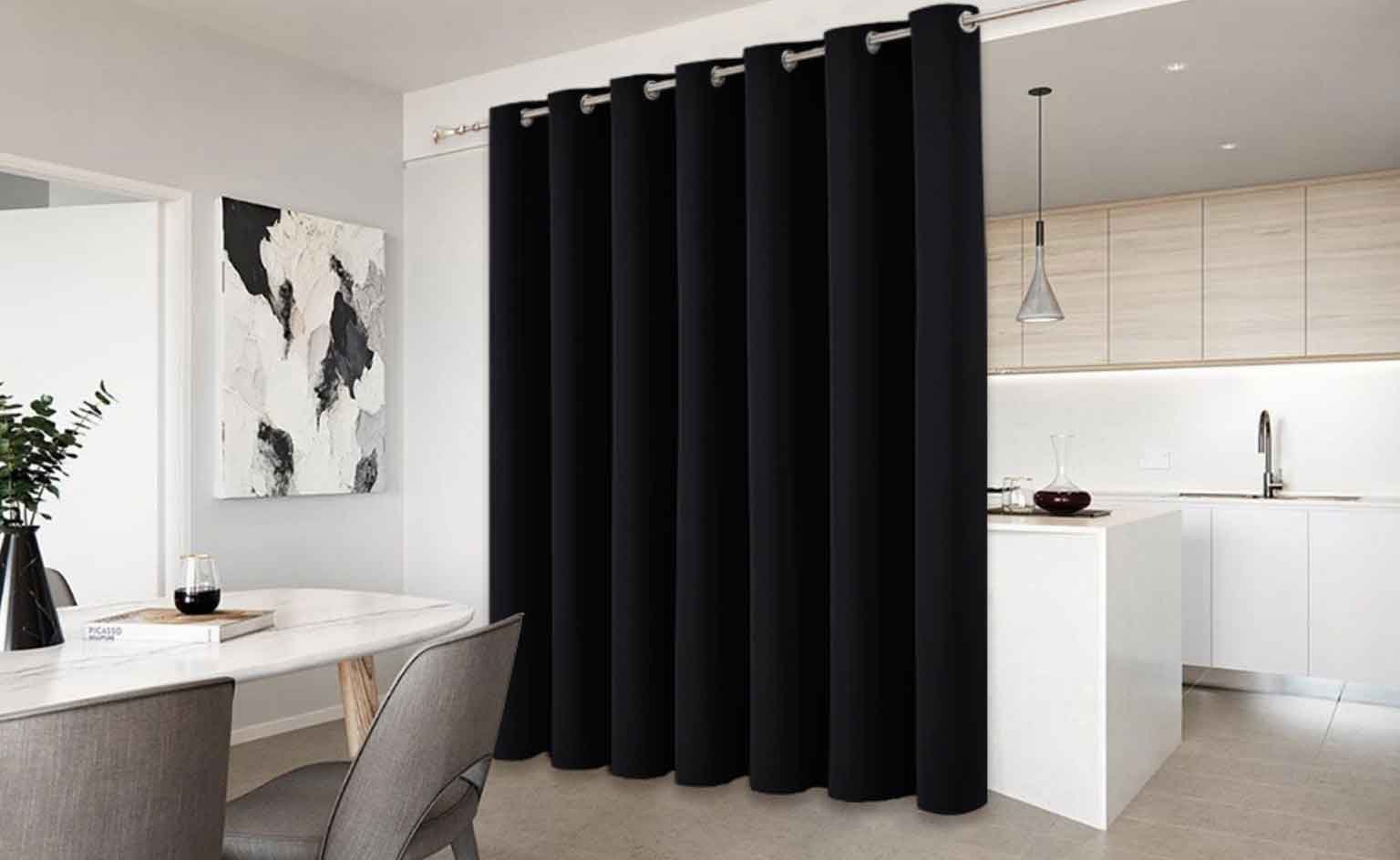 Buy The Classic Blackout Curtains Dubai at a Reasonable Price!
Looking for an affordable way to cover your windows and block out light? Look no further than our Classic Blackout Curtains lining materials for your window covering! Made of 100% polyester, our Blackout Window covering is perfect for bedrooms, nurseries, home theaters, and more. It's also easy to install simply use the included adhesive strips to attach the covering to your window.
This product is perfect for bedrooms, home offices, and nurseries. It is also great for people who work night shifts or have sensitive eyes. The Blackout Curtains Dubai is made of a thick, opaque material that will completely block out light. It is easy to install and can be cut to fit any window size. So why wait? Order your blackout window covering today!
Why Choose Us To Buy Blackout Curtains Dubai?
Looking for an elegant way to block out the light and get a good night's sleep? Look no further than our Blackout Curtains Dubai. At WindowCurtainshop. ae, we offer curtains that are made from high-quality materials and construction, so you can be sure they'll last for years to come. And because they're blackout curtains, they'll completely block out the light, so you can sleep soundly through the night.
If you are looking for the Best blackout curtains in Dubai, then Contact us today. We'll be happy to help you find the perfect curtains for your needs.
Frequently Asked Questions (FAQs)
Blackout curtains are not typically soundproof, but they can help to muffle some noise. If you are looking for complete soundproofing, you should look into other options such as soundproof foam or soundproof blankets.
Adding blackout lining to your existing curtains is a great way to improve the light-blocking abilities of your window treatments. Blackout lining is a type of fabric that is designed to block out light.
Yes, blackout curtains can reduce noise. They work by absorbing sound waves and preventing them from bouncing back. This can help to reduce the overall noise level in a room.
Here are instructions on how to iron blackout curtains:
Hang the blackout curtains on a clothesline or other laundry rack.

Use a low-heat setting on your iron and gently iron the curtains.
If you're interested in our Blackout curtains Dubai installation service, contact us today.