It is now a tradition in every office and home to use the modern Blackout Curtain for an innovative look. While people also may use it for the sake of privacy or blocking light coming inside and preventing the outside view of the room. These curtains are not only Esthetics in nature but bring a stunning look to your room.
If you're looking for gorgeous blackout curtains for your Dubai home or workplace, you've come to the correct spot. Our window curtain shop. ae offers a beautiful and thoughtful selection of solutions that may set us apart from other retailers in the market. We offer a wide selection of Blackout curtains in a variety of colors and styles, so you can pick the perfect curtains for your space on a budget that is not heavy on your pockets.  
Do you know about the blackout Curtain?
If you don't know about Blackout Curtain, don't worry we will let you know about our stand-out Blackout Curtain.  you can make your room more comfortable and peaceful. Moreover, our White Blackout curtains are also an ideal choice for those who want to make a room a completely isolated movie-watching or game-playing area.             
What's the purpose of our blackout Curtain?
Our Curtains in Abu Dhabi are generally known as fabric drapes or shades that can be fitted above your windows. Due to the extra layer, these shades provide safety over blinds. Our Curtains are often made of a heavy, opaque fabric that prevents sunlight or artificial light from entering a room. Blackout Curtains are beneficial for people who need to sleep during the day, such as shift workers or people with sleep disorders.
Types of Blackout Curtains
Thermal Blackout Curtains:
These types of Curtains are a great way to reduce energy costs and keep your home comfortable. In the summer, they can help keep the heat out, while in the winter they can help keep the warmth in.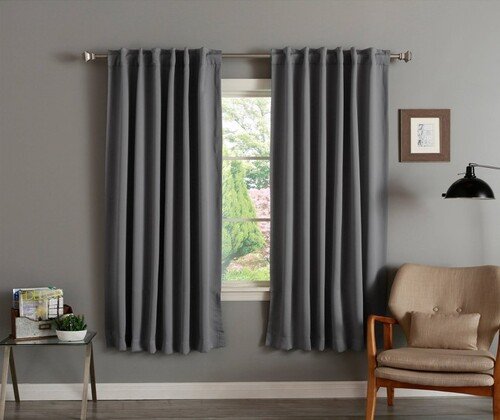 Room darkening curtains:
These types of curtains are often used in homes & offices where direct sunlight is an issue. Especially in offices where employees working on PCs or laptops, may face a light reflection. So, our Blackout blinds and curtains enhance productivity with less damage to the face of the eye.
Light blocking curtains
Light-blocking drapes are a terrific method to enhance the quality of your sleep and create a more cozy and soothing environment in your bedroom. These curtains are lined with light Blackout curtains lining material. This makes sure that find more peace in your bedroom or office room.
Total blackout curtain
These types of curtains help block out drafts and block out up to 99% of light.  Total Blackout curtains are an ideal solution for anyone looking for a way to block out all the light in a room. These special curtains have Blackout fabric on both sides, meaning that no light can pass through. So, Try our bedroom Blackout curtains for rooms or other spaces where complete darkness is desired.
9 Benefits of our Blackout Curtain
 Improved Sleep Quality: These Curtains effectively block out all external light and noise, creating a dark and peaceful sleeping environment. This leads to better sleep quality and reduces the risk of insomnia and sleep disturbances.
Complete Privacy:
Our curtains provide complete privacy by blocking the view into your room from the outside. This is particularly useful for those who live in high-rise apartments or near busy roads. In addition, curtains can also make your home feel more secure and private by reducing visibility from outside.
Energy Saving Options:
Blackout curtains can help regulate room temperature by trapping air and preventing heat loss in winter and heat gain in summer. 
Better Room Temperature Control:
These curtains can effectively block out heat and cold, keeping your room at a comfortable temperature year-round. This can also help to reduce your reliance on heating and cooling systems, saving you money and reducing your carbon footprint.
Sufficient Light Control:
Blackout Curtain allows you to control the amount of light in your room, giving you the flexibility to create the perfect lighting environment for any activity, whether it be sleeping, reading, or watching TV.
Aesthetic design and style:
Blackout curtains come in a variety of styles and designs to suit any decor style. From traditional to modern, you can choose the perfect curtain to complement your room and express your style.
Focus and Concentration at work:
The curtain brings more focus and concentration by reducing distractions from external light and noise. This is especially beneficial for those who work from home or need a quiet environment for studying.
Increased Home Value:
This curtain can add value to your home by improving energy efficiency and creating a more comfortable living environment. This can be particularly appealing to potential buyers who are looking for a home with modern amenities and energy-saving features.
Easy Maintenance:
Blackout Curtain is easy to clean and maintain, making them a practical and low-maintenance addition to your home. Simply wipe them down with a damp cloth or machine wash as needed to keep them looking like new.
Conclusion?
window curtain shop. ae offer a wide assortment of Blackout curtains that bring more charm to any atmosphere. Our Blackout curtains Dubai come with distinctive features that can enhance the workspace look. Given their many benefits and potential to increase the value of your homes or workplaces, we hope that you appreciated our curtains. Explore our website and send us a quote Now!