We provide the most exquisite Sheer Curtains | Shower Curtains Online Dubai: 
One of the best bathroom addition that can provide both privacy as well as prevent water splashing is the shower curtains. These are made by such materials that can resist water like polyester, vinyl, or nylon. So, when purchasing the curtain, it is important to find a material that can provide both privacy and water resistance. In this modern era, almost every bathroom has Shower Curtain for these two reliabilities. Using Luxurious shower curtains adds style and modern touch to the interior of the bathrooms. 
Even though bathrooms are sometimes among the smallest rooms in a house, decorating them may be challenging. We have several alternatives attainable to you whether you have a shower that needs a curtain or a shower bath. We provide aesthetically beneficial clear shower curtains that can also give you privacy in your bathrooms. Also, our products are water resistant that can resist water from splashing on the bathroom floor.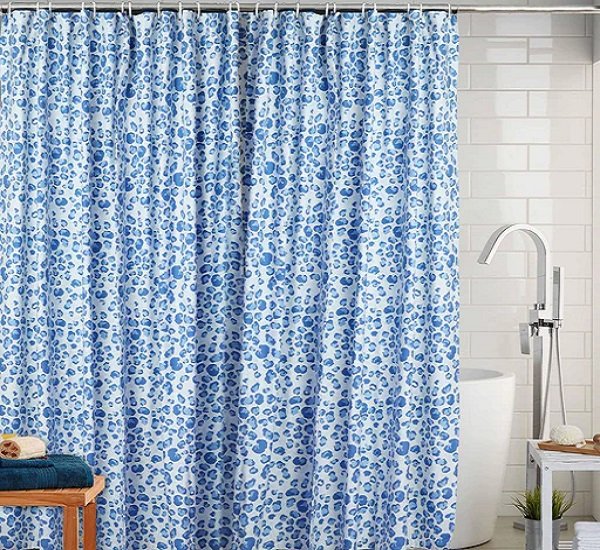 Pick the equitable Shower Curtains | Purpose of Shower Curtains 
We offer shower curtains in a wide range of shapes and patterns that can be accommodated for various tastes and bathroom design aesthetics. Colored shower curtains are also available in a wide range these curtains can provide style and standard to the place when they are hung over the shower curtain rods. 
The shower curtain is quite helpful and is used to increase shower seclusion and stop moisture and water from escaping the bath or shower space. It is difficult to maintain the aesthetics of the bathroom as it is difficult to choose the perfect shower curtain. It is important to consider the following points in mind when choosing the Best shower curtains for your privacy. 
First, consider which type of shower curtain can match your bathroom interior. 

Then, the type of material is also significant to consider either it gives aesthetics or standard. 

Style is also important to consider with the material of the shower curtain. 

The last preferred thing must be the space where the curtain rings or hooks are to be placed. Select that is it best or not. 
Inspecting the Shower Curtains categories: 
We offer many beneficial types of shower curtains that provide privacy and water and mild resistance. These are 
A range of materials, including cotton, vinyl, polyester, and microfiber, are used to make a shower curtain. Your bathroom's design will be influenced by the curtain material you choose. These types of shower curtains have more cost but come in a variety of range in colors, textures,  and styles that can add a perfect look to the bathroom. One of the most important fabrics is linen shower curtains. 
PVC or polyvinyl chloride, which is used to make vinyl liners has a high phthalate content. PVC liners' noxious odor might give off symptoms like headaches and nausea. Although vinyl liners are incredibly inexpensive, your family's health can suffer as a result. They are water-repellent and mild-repellent if the bathroom is kept clean and dry regularly. They are suitable for daily use, come in a variety of colors and styles, and are reasonably priced. 
Your tub will be attractively enclosed with a shower curtain liner, keeping water off the floor and giving you more privacy. It offers the ideal amount of flair and practicality so you can take a hot shower. These types of curtains also come in a wide range of designs and colors with printed stuff. These are good to add colors and style when they are added with liners and long shower curtain rings. 
Hookless Shower Curtains: 
These are the types of shower curtains that do not require hooks or rings to be hung in the curtain. These come with bbuilt-ingrommets or hooks or rings, which fasten to the shower pole or curtain rod instead. This eliminates the need for additional hardware and makes them simple to install and uninstall. 
The curtains are installed on such bathrooms that have high ceilings and provide extra privacy. They are also significant to use and come in a wide range of colors and designs. These a made with multi-textured materials to provide an elegant look. They are used to give a style to the bathroom. 
These curtains are clear and transparent. They often provide less privacy but act as the best privacy material with moisture. These are the best choice for those who are conscious of their surrounding. They are a fantastic solution for folks who want to flaunt their gorgeous tile work or who want to give the appearance of a larger room. 
Benefits of Shower Curtains: 
There are many benefits of shower curtains that increase the need for their installation. Some of the important benefits of Shower curtains are 
One of the main benefits of installing a Shower Curtain in the bathroom is privacy. These are mainly used for privacy purposes. It is also used for dividing the place in the bathrooms. When they are in use for more than one family member. 
Easy Manual Installation: 
The shower curtain is easy to install and can be easily placed without any special services. They can be easily placed on the hooks or rings and also taken easily off. 
There are many types of shower curtains as mentioned above. They can be purchased at a lower cost. Also, they need no installation services. 
Multiple Choices in Designs: 
As they are available in different varieties, there is no difficulty to find the most desirable shower curtain. 
Conclusion: 
It is important to make sure that the chosen Shower Curtains are in a favorable size to give a perfect style as they are another way to give a bathroom flair and style. To create a uniform appearance, they can be combined with other bathroom furnishings like bath mats, towels, and soap dispensers.